Profile
Dr. Shozo Kaneko

Research Advisor
The University of Tokyo, Institute of Industrial Science
【Profile of Dr. Shozo Kaneko】
Dr. Shozo Kaneko was appointed the professor in charge of the Endowed Research Unit as of September 1st, 2008. He was appointed the deputy director of Collaborative Research Center for Energy Engineering (CEE) on April 1st, 2009.
After graduating from the Department of Mechanical Engineering, the University of Tokyo, he joined Mitsubishi Heavy Industries, Ltd. (MHI) as a design engineer of thermal power plants. Alongside designing and constructing more than 30 utility boilers, he was responsible for developing new technologies such as low NOx burners, SCR (Selective Catalytic Reduction), new fuels such as COM/CWM (Coal-Oil-Slurry/ Coal-Water-Slurry), fluidized bed combustion, USC (Ultra-supercritical) boilers and IGCC (Integrated coal Gasification Combined Cycle).
He also conducted research in the area of PSA (Pressure Swing Adsorption), Fuel Cells (PAFC, PEFC, SOFC), fluidized-bed steam reformer, photovoltaic (amorphous silicon thin film), and desalination (reverse osmosis).
He was named General Manager of Boiler Engineering in 1994 and appointed the Deputy General Manager of Power Systems Headquarters in 1999.
Dr. Kaneko was a member of the Board of Directors of MHI from 1999 to 2001. His final position at MHI was Chief Engineer in Power Systems.
He joined Clean Coal Power R&D Co., Ltd. (CCP) in 2001 which was established by ten Japanese utility companies to execute the 250MW IGCC Demonstration Project. He served as a member of the Board of Directors and the Executive Vice President in charge of engineering. He directed design, engineering, construction, start-up and operation of the Demonstration Plant until June, 2008.
In February, 2014, he was appointed "the Chairman of the main committee on Power Generation Facility Codes of Japan Society of Mechanical Engineers (JSME).
Dr. Kaneko retired from the professor position and deputy director of CEE in August 2016, and has been a Research Advisor since November, 2016.
He was awarded:
Ph.D. in engineering from the University of Tokyo.
A Fellow of the Japan Society of Mechanical Engineers (JSME).
JSME Award (Technology) twice in 1977 and 1997.
Distinguished Achievement Award from PESD of JSME in Nobember 2009.
JSME Award (Technology) on "Development of High Efficiency Air-blown IGCC" in 2013
Awards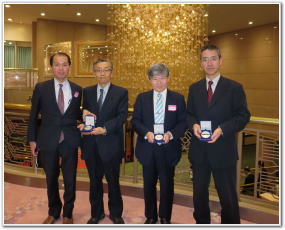 JSME Award (Technology) 2013
On APR. 18, 2014, JSME Award 2013 (Technology) was given on "Development of High Efficiency Air-blown IGCC" at the Annual Meeting.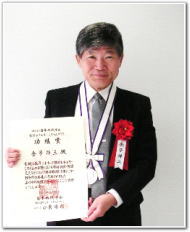 JSME Distinguished Award
On Nov. 13, 2009, at the annual Seminar & Salon of the Power & Energy Systems Division of the Japan Society of mechanical Engineers, "Distinguished Achievement Award" was given to Prof. Kaneko commemorating his long years contribution to that division and technical accomplishment in that field.